Our Story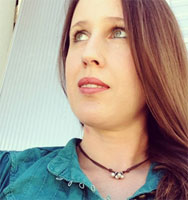 Shannon Foster had a mountain of wool scraps from her diaper cover business, Woollybottoms. In 2008, she put those scraps to use and developed a baby slipper with an awesome stay put design perfect for active babies and toddlers.
The slippers were crafted with a wool outer, fleece inner, and a non-slip leather sole. Popularity for the slippers has continued to increase and the time came for the slippers to branch out on their own in 2014. We now make our slippers with organic cotton and they are hand crafted one at a time in Rose Bud, Arkansas.
Each slipper is hand crafted with care and love for the sweet feet that they will snuggle. We hope you will love your slippers!
Get to know me a little bit better! I am wife to James and got married the love of my life at the age of 17. I am a mother to 4 including identical twin boys. I'm an introvert. I am an avid gardener. I love to can and preserve what I grow. I also have about 40 chickens, a handful of ducks, and 3 cats. We live on 2 acres in the north central Arkansas area. Your slippers are handcrafted by me and I am the one who handles every inch of your order from cutting, sewing, inspecting, and shipping. I LOVE sewing for your babies. I am so thankful for each and every one of you!